The DYNAMITE Project is:
a European Community funded research project
an Integrated Project instrument funded under the Sixth Framework Programme under a joint call of Priority 2 IST and 3 NMP.
Summary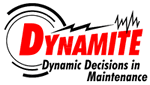 The maintenance of machinery is a huge cost to European industry. Studies over the last 20 years have indicated that around Europe, the direct cost of maintenance is equivalent to between 4% and 8% of total sales turnover. The indirect cost of maintenance (quality, lost productivity, etc.) is likely to be a similar amount. In the UK alone this would equate to several billion Euros, and across the European Union – especially in those countries where modern maintenance practices have yet to be well adopted by industry – the potential savings from modern maintenance are massive – measured in hundreds of millions of Euros at least.
The DYNAMITE proposal will deliver a blend of leading-edge communications and sensor technology, combined with state-of-the-art diagnostic and prognostic techniques, which will advance the capabilities of European industry in maintenance. The objective of the partners through this Integrated Project is to deliver a prototype system with a clear exploitation route to take the technology into the European market.
The monitoring of machines and processes for predictive maintenance and control is crucial for sustainable and competitive industry in Europe. Distributed, autonomous monitoring is fundamental to the penetration of e-maintenance to the cutting edge of high capital and highly productive plant. DYNAMITE will create an infrastructure for mobile monitoring technology and create new devices which will make major advances in capability for decision systems incorporating sensors and algorithms. The key features include wireless telemetry, intelligent local history in smart tags, and online instrumentation.
Further information and published articles are available at the DYNAMITE website
References
Baglee, David, Knowles, Michael and Yau, Alan (2011) Development of techniques to manage asset condition using new tools. In: Asset Management: The State of the Art in Europe from a Life Cycle Perspective. Production & Process Engineering . Springer. ISBN 978-94-007-2723-6.
Yau C-Y, Baglee D. and Knowles M.J. Utilizing RFID and PDA Together for Mobile E-Maintenance, The First International Workshop and Congress on eMaintenance, June 2010.
Knowles M.J. and Baglee D. Maintenance strategy development within SMEs: the development of an integrated approach. Control and Cybernetics Vol. 39 (1) Jan 2010.
Knowles Michael, Baglee David, Yau Chi-Yung, Using RFID and PDA together for Mobile E-Maintenance, Machine Failure Prevention Technology (MFPT) Conference 2010.
Baglee David, Yau Chi-Yung, Utilizing RFID and PDA Together for Mobile E-Maintenance, COMADEM 2009 22nd International Congress of Condition Monitoring ,  2009.
Baglee David, The Development of Mobile e-maintenance system utilizing RFID and PDA technologies, The 4th World Congress on Enginnering Asset Managemetn WCEAM 2009 , Springer, 2009, Vol n/a, ppn/a, 1846285836.
Baglee David, A New Integrated E-maintenance Concept, E-Maintenance , Springer, 2010, Vol n/a, pp61-82, 978-1-84996-204-9.
Contact details:
Dr David Baglee
DYNAMITE Project Manager
AMAP Institute
University of Sunderland
The Industry Centre
Colima Avenue
Sunderland Enterprise Park West
Hylton Riverside
Sunderland
Tyne & Wear
SR5 3XB
Telephone: 0191 515 2869
Email: david.baglee@sunderland.ac.uk